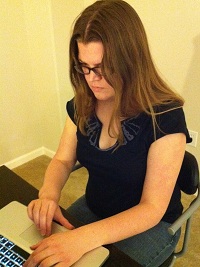 Sunday, October 28, 2012
Mindy and Sowmya
Mindy Steffen aka Mindy Indie is a comic and mural artist in Brooklyn. Her extensive work includes Aer Head, Misfortune Cookie, Sammy, and many murals like this one: Mario Mural and this one: Beatles Mural.
Sowmya aka DJ Sowms is an embedded software engineer who moonlights as an internet curator. Check out her blog, Inconsequential Frivolity.
Jim Otermat, aka my husband, is a game programmer. He is best known for his device driver work on Harmonix's Rock Band 2 keytar and 256 key guitar. He currently works as a tech lead at GSN Games. His indie work includes Dark Scavenger and Consentual Chaos. Check out his site, jwotermat.com.